Black Dog & Leventhal Launches Contest for Three Scholarships to Wi8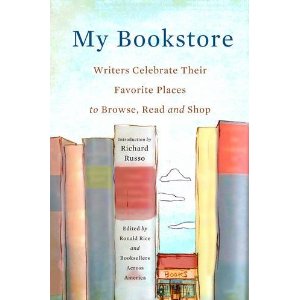 In celebration of My Bookstore, a collection of essays by some of America's favorite writers to be released November 13, Black Dog & Leventhal Publishers is offering booksellers the chance to win one of three $2,500 scholarships to Winter Institute 8. A major portion of the scholarship funding has been generously provided by the authors who contributed to the book, edited by Ronald Rice with an introduction by Richard Russo and illustrations by Leif Parsons. A list of the authors and bookstores included in My Bookstore is featured below.
"I can't recall when there has been so much enthusiasm, cooperation, and focus on making a single book a success," said Black Dog & Leventhal Publisher J.P. Leventhal. "It's been a thrill to see bookstores, authors, the press, editors, agents, sales reps, and publicists working hand-in-hand to celebrate the wonders and virtues of bookstores."
In cooperation with the American Booksellers Association, Black Dog & Leventhal is asking booksellers to sharpen their pencils or turn on their video cameras and express their feelings about "Why My Bookstore Matters." In a maximum of 1,000 words or no more than two minutes of video or audio, booksellers are asked to share their personal interactions, staff innovations, or the atmosphere that exemplifies what their bookstore brings to the community.
Black Dog & Leventhal will set up an independent panel to judge the entries, giving special consideration to those that include creative and practical ideas of benefit for other independent booksellers. (For inspiration, check out the ABA's new video campaign "Why Indies Matter," launched at BEA 2012.)
Each of the winners will receive $2,500 to cover the expenses for two booksellers — the winner and one other staff member — to attend Winter Institute 8, to be held in Kansas City, Missouri, from February 22 - 25, 2013. Winning entries will be displayed on the Black Dog & Leventhal Facebook page.
Entries must be received by 5:00 p.m. EST on Monday, October 15, 2012. For written or audio-only submissions, entries should be e-mailed directly to MyBookstoreContest@blackdogandleventhal.com with a copy to ABA Senior Program Officer Joy Dallanegra-Sanger. For video files, booksellers should create a free account on YouTube and upload their entry, then send the link to MyBookstoreContest@blackdogandleventhal.com with a cc to Dallanegra-Sanger.
The winners will be announced the week of November 12, 2012.
As BTW reported last May, My Bookstore: Writers Celebrate Their Favorite Places to Browse, Read, and Shop features essays from more than 80 authors who pay tribute to their favorite bookstores and booksellers. Black Dog & Leventhal hopes that ABA members will join these authors in celebrating all that independent bookstores offer their communities and that they'll have as much fun creating their own essays or videos as they will in promoting My Bookstore to their customers.
Contributing authors and bookstores in My Bookstore include:
Rick Bragg—Alabama Booksmith, Birmingham, AL
Fannie Flagg—Page & Palette, Fairhope, AL
John Grisham—That Bookstore in Blytheville, Blytheville, AR
Ron Carlson—Changing Hands Bookstore, Tempe, AZ
Ann Packer—Capitola Book Café, Capitola, CA
Isabel Allende—Book Passage, Corte Madera, CA
Brian Selznick—Warwick's, LaJolla, CA
Mahbod Seraji—Kepler's Books, Menlo Park, CA
Lisa See—Vroman's Bookstore, Pasadena, CA
Meg Waite Clayton—Books Inc., San Francisco, CA
Daniel Handler and Lisa Brown—The Booksmith, San Francisco, CA
Dave Eggers—Green Apple Books, San Francisco, CA
Pico Iyer—Chaucer's Books, Santa Barbara, CA
Laurie R. King—Bookshop, Santa Cruz, CA
Scott Lasser—Explore Booksellers, Aspen, CO
Stephen White—Tattered Cover Book Store, Denver, CO
Kate Niles—Maria's Bookshop, Durango, CO
Ann Haywood Leal—Bank Square Books, Mystic, CT
Florence and Wendell Minor—The Hickory Stick Bookshop, Washington Depot, CT
Rick Atkinson—Politics and Prose Bookstore, Washington, DC
Les Standiford—Books & Books, Coral Gables, FL
Robert Macomber—The Muse Book Shop, Deland, FL
David Fulmer—Eagle Eye Book Shop, Decatur, GA
Abraham Verghese—Prairie Lights, Iowa City, IA
Charlie Brandt—Chapter One Bookstore, Ketchum, ID
Luis Alberto Urrea—Anderson's Bookshops, Naperville, IL
Mike Leonard—The Book Stall Chestnut Court, Winnetka, IL
Albert Goldbarth—Watermark Books, Wichita, KS
Wendell Berry—Carmichael's Bookstore, Louisville, KY
Michael Tisserand—Octavia Books, New Orleans, LA
Edith Pearlman—Brookline Booksmith, Brookline, MA
Mameve Medwed—Porter Square Books, Cambridge, MA
Henry Louis Gates, Jr.—Harvard Book Store, Cambridge, MA
Simon Winchester—The Bookloft, Great Barrington, MA
Nancy Thayer—Mitchell's Book Corner, Nantucket, MA
Elin Hilderbrand—Nantucket Bookworks, Nantucket, MA
Jeanne Birdsall—Broadside Bookshop, Northampton, MA
Martha Ackmann—Odyssey Bookshop, South Hadley, MA
Ward Just—Bunch of Grapes Bookstore, Vineyard Haven, MA
Ron Currie, Jr.—Longfellow Books, Portland, ME
Nancy Shaw—Nicola's Books, Ann Arbor, MI
Katrina Kittle—Saturn Booksellers, Gaylord, MI
Ann Patchett—Mclean & Eakin Booksellers, Petoskey, MI
Louise Erdrich—Magers and Quinn Booksellers, Minneapolis, MN
Peter Geye—Micawber's Books, St. Paul, MN
Kathleen Finneran—Left Bank Books, St. Louis, MO
Barry Moser—Lemuria Books, Jackson, MS
Jack Pendarvis—Square Books, Oxford, MS
Jill McCorkle—Flyleaf Books, Chapel Hill, NC
Carrie Ryan—Park Road Books, Charlotte NC
Laurent Dubois—The Regulator Bookshop, Durham, NC
Lee Smith—Purple Crow Books, Hillsborough, NC
Angela Davis-Gardner—Quail Ridge Books & Music, Raleigh, NC
Ron Rash—City Lights Bookstore, Sylva, NC
Ian Frazier—Watchung Booksellers, Montclair, NJ
Audrey Vernick—Booktowne, Manasquan, NJ
Joan Wickersham—The Toadstool Bookshop, Peterborough, NH
Carmela Ciuraru—Community Bookstore, Brooklyn NY
Matt Weiland—Greenlight Bookstore, Brooklyn, NY
Kate Christensen—Word, Brooklyn, NY
Mick Cochrane—Talking Leaves Books, Buffalo, NY
Caroline Leavitt—McNally Jackson Books, New York, NY
Arthur Nersesian—St. Mark's Bookshop, New York, NY
Francine Prose—Strand Bookstore, New York, NY
Pete Hamill—Strand Bookstore, New York, NY
Jeff Smith—Book Loft German Village, Columbus, OH
Chuck Palahniuk—Powell's Books, Portland, OR
Larry Kane—Chester County Book & Music Company, West Chester, PA
Ann Hood—Island Books, Middletown, RI
Mindy Friddle—Fiction Addiction, Greenville, SC
Adam Ross—Parnassus Books, Nashville, TN
Douglas Brinkley—Book People, Austin, TX
Terry Tempest Williams—The King's English Book Shop, Salt Lake City, UT
Howard Frank Mosher—Galaxy Bookshop, Hardwick, VT
Jon Clinch—Northshire Bookstore, Manchester, VT
Jonathan Evison—Eagle Harbor Book Co., Bainbridge Island, WA
Tom Robbins—Village Books, Bellingham, WA
Stephanie Kallos—Third Place Books, Lake Forest Park, WA
Timothy Egan—Elliot Bay Book Company, Seattle, WA
Ivan Doig—University Book Store, Seattle, WA
Lesley Kagen—Next Chapter Bookshop, Mequon, WI
Liam Callanan—Boswell Book Company, Milwaukee, WI