Booksellers Forum Photos & Previews
The American Booksellers Association's spring Booksellers Forum program began on Thursday, March 8, at the Towne Book Center & Café in Collegeville, Pennsylvania. At the program held in conjunction with the New Atlantic Independent Booksellers Association, booksellers joined ABA CEO Oren Teicher, Content Officer Dan Cullen, and Member Relationship Manager Kaitlin Pitcher for a discussion of industry issues and an update on various association projects, and for the presentation of the education session "The Best of Winter Institute 7's Best Practices."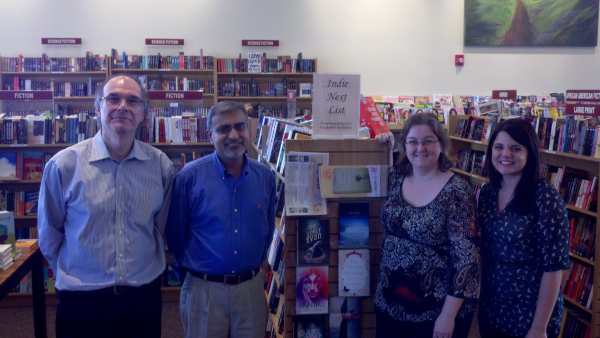 Standing beside the Towne Book Center Indie Next List display are (from left) ABA CEO Oren Teicher, Towne Book Center's owner P.K. Sindwani and Marketing Manager Kit Little, and ABA Member Relationship Manager Kaitlin Pitcher.
The second Booksellers Forum of the season was on Tuesday, March 13, in Nashville, Tennessee's Green Hills Branch Library in conjunction with the Southern Independent Booksellers Alliance. ABA's open forum discussion and "Best of the Best" session was hosted by Teicher, Cullen, and Senior Program Officer Joy Dallanegra-Sanger. At the conclusion of the program, attendees were invited to a special reception at Parnassus Books, where they met local authors, including bookstore co-owner Ann Patchett.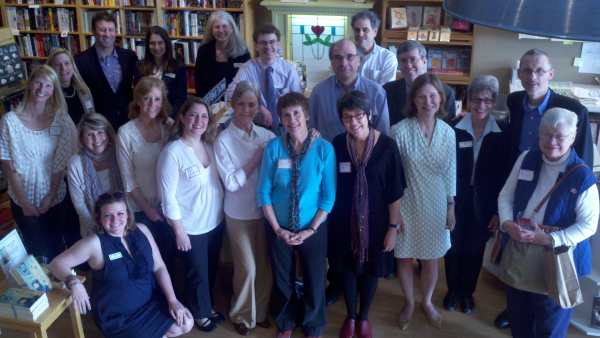 Parnassus Books co-owners Ann Patchett and Karen Hayes, their store colleagues, visiting booksellers, and ABA's Oren Teicher, Joy Dallanegra-Sanger, and Dan Cullen attended a reception at the bookstore following the education panel and forum meeting at the recent ABA Spring Forum in Nashville, Tennessee.
Two Booksellers Forum programs are upcoming next week:
The complete list of ABA's spring Booksellers Forums is available here. ABA education is sponsored by the Ingram Content Group.

Categories: