Spring Forum Next Week in Washington, DC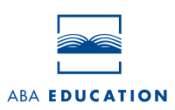 The American Booksellers Association is inviting booksellers to join ABA CEO Oren Teicher at a Spring Forum at Politics and Prose Bookstore in Washington, D.C., on Tuesday, March 19. The event, presented in conjunction with the New Atlantic Independent Booksellers Association, is free and open to all booksellers — ABA and NAIBA members and non-members alike. Members of the ABA staff will also be on hand for a day of education, lunch, and open discussion.
The day's programming features:
The Top 10 Things You Must Do Now! — 11:00 a.m. - 12:30 p.m.
ABA will share 10 creative things that booksellers can do to make their stores more successful and profitable in 2013. These top 10 ideas will feature best practices that have been proven to great success by other indie booksellers. A broad range of categories will be covered, including marketing/promotion, finances, store operations, inventory, ambiance, customer service, and more.

ABA Booksellers Forum — 12:30 p.m. - 2:00 p.m.
Teicher will lead an open forum and discussion of industry issues. Attendees help guide the agenda of the forum, so all are encouraged to come with questions and comments.

Kobo eReader Training — 2:00 p.m. - 3:00 p.m.
A representative of Kobo's eReader training team will lead a 60-minute session on features and uses of Kobo's eReader lineup for both frontline bookselling staff and owners or managers who want to spend more time promoting and answering questions about devices.
For planning purposes, booksellers who are planning to attend are asked to RSVP to NAIBA at (516) 33-0681 or info@naiba.com, with the Subject: NAIBA Spring Forum.
Questions about the forum should be addressed to ABA Member Relationship Manager Kaitlin Pitcher.
Politics and Prose is located at 5015 Connecticut Ave NW, Washington, DC 20008.
Categories: