Gearing Up for the Big Giveaway
The buzz for World Book Night just got a lot louder. This week, givers found out which books they'll be giving away and confirmed their pickup locations, and bookstores were busy planning events and creating displays.
Givers received an e-mail from World Book Night this week that asked them to choose their book pick-up point — a local bookstore or library — by the end of Friday, March 2, "to ensure that distribution runs smoothly," World Book Night said.
At the same time, bookstores across the country were busy promoting the April 23 event, planning parties, and putting together displays.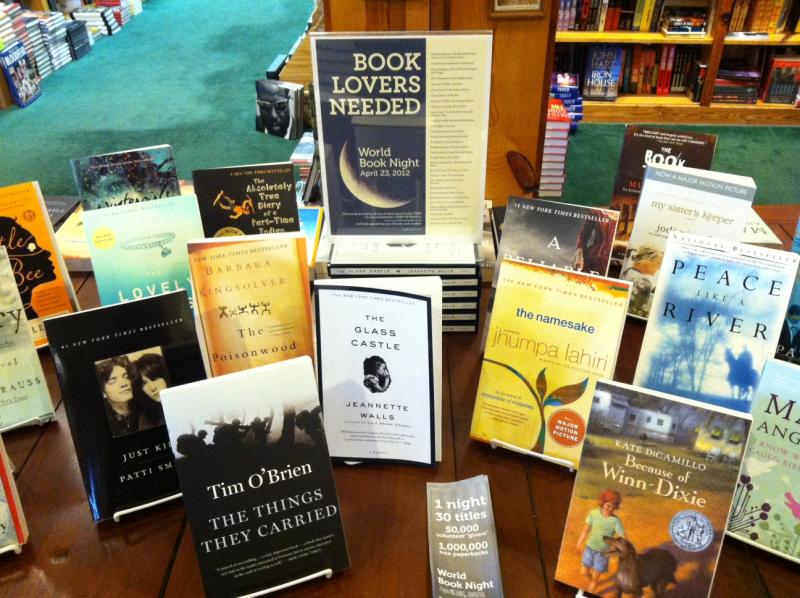 Lemuria Books in Jackson, Mississippi, plans to make World Book Night a "celebration of books and reading in our community," said fiction room manager and blog editor Lisa Newman. The store is throwing a Book Pick-Up Party on April 20, and will have extra books on hand for last-minute book givers.
"At some point during the event, we'll gather together and talk about what books we are giving and where we are giving them out," Newman said. "We'll have snacks and drinks and mingle. And then the great handing out of books! We send our book givers out into the community."
After the great giveaway, Lemuria will host a post-World Book Night party, where givers will be able to share experiences and photos.
"I will write up a blog about our experiences so that all of our customers and community can read about it," said Newman. "Throughout the entire process, we will be using Facebook, Twitter, and our blog to get the word out."
Lemuria is coordinating a number of events with the goal of generating community interest, as well as local media coverage. One book-giving group is being led by a local professor who has planned several book-giving locations, including senior citizens groups, GED classes, life skill classes, staff at an elementary school, a neighborhood nonprofit agency, and apartments for low-income adults with disabilities.
"I am so excited about the books they will be able to share but also know that by working together we will more likely be able to get media coverage," said Newman. "Seeing how World Book Night filters down into local places and organizations is the beautiful part."
At Alamosa Books in Albuquerque, New Mexico, a flier on the counter and on the front door draws attention to the big giveaway, and plans are in the works for a WBN display. "We will be putting all the books from the list on a table in our fiction room," said co-owner Elizabeth Anker. The store has also sent out several e-newsletters with WBN updates and information.
"We will certainly highlight the YA and teen-interest books on the list," Anker said. "We are already promoting the Hunger Games. I also really like Bel Canto and Zeitoun. We're not a big market for Connelly or Grafton, but the rest of the list is almost tailored to our store. So it will be difficult to focus on any one or two titles. Most of them are already on our shelves in piles simply because we sell them so much!"
Diesel, a bookstore, in Oakland, Malibu, and Brentwood, will be partying and distributing books to givers at all three locations on April 16. The Oakland store will celebrate with wine, music, and food.
"We have DIY materials in all three stores promoting the event," said co-owner John Evans, and WBN displays will happen soon.
Diesel customers "have been very excited and love the idea," Evans said. "I know a bunch of people, including our booksellers, who have signed on and look forward to the event."
All ABA member World Book Night pick-up locations were recently sent a new poster promoting the April 23 celebration. Other ABA member stores that would like to help promote World Book Night, even if they are not serving as book pick-up locations, can request a copy of the poster via an e-mail to ABA Membership and Marketing Officer Meg Smith by March 15. Quantities are limited, and requests will be filled on a first-come, first-served basis. The poster will be sent in the store's next Red Box mailing.
Categories: