Yoga and Health Club Available to Wi8 Attendees
While filling up on Kansas City barbeque, booksellers attending the American Booksellers Association's eighth annual Winter Institute need not abandon their fitness regimens. Yoga classes will be led each morning of the Institute by fellow bookseller Susan Weis-Bohlen, owner of breathe books in Baltimore, Maryland. In addition, hotel guests will have complimentary access to the Westin Kansas City at Crowne Center's health club throughout their stay.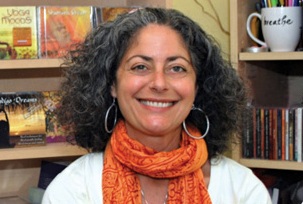 Weis-Bohlen will lead yoga classes on Saturday from 7:00 a.m. – 7:45 a.m. and on Sunday and Monday from 7:15 a.m. to 8:00 a.m. in Washington Park 1, which is located on the Westin's lobby level. Weis-Bohlen has been a practitioner of yoga and meditation for almost 20 years and is a Chopra Center certified instructor of Ayurveda.
"What better way than yoga to prepare the mind and body for all that is coming our way!" said Weis- Bohlen, who will lead participants through gentle movements designed to ease jet lag, stretch muscles, and prepare the body to sit at attention and open the mind to receive new information. "You will even sleep better!" she added.
The 30-minute yoga practice will be appropriate for all levels of experience and will be followed by 15 minutes of guided meditation. The hotel will provide towels in lieu of yoga mats, and attendees are urged to wear comfortable clothes.
Weiss-Bohlen will leave enough time for attendees to get to the Institute's morning sessions "feeling refreshed and ready for the day," she said.
The health club at the Westin Kansas City at Crowne Center is complimentary for all Wi8 attendees throughout their stay. The club features a heated pool, tennis courts, and two fitness studios equipped with various cardio and weight machines.
Categories: