Ingram Offers Promotional Materials & Discount for World Book Night
Ingram, an official sponsor of World Book Night, is offering downloadable promotional materials that booksellers can print and use to build displays around next month's celebration. Materials include an 8.5" x 11" flier, an 11" x 17" poster, a shelf-talker, and bookmark, promoting the 30 titles to be given away by thousands of givers across the U.S. on April 23.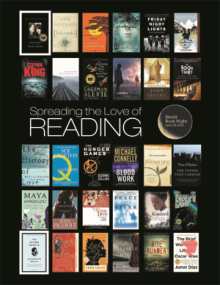 To help booksellers meet the demand that World Book Night publicity will bring for these titles, Ingram is offering an extra three percent discount on the 30 World Book Night selections through April 30. The discount applies to qualifying titles on all purchase orders submitted to Ingram during the term of the offer; no discount code is required.
To learn more and to download the promotional materials developed by Ingram, click here.
Additional promotional material templates, including bookmarks, stickers, and web graphics, are available in ABA's Bookseller DIY. Recently added is a customizable certificate that stores can use to thank their customers for being givers.
Categories: